Thorough planning and attention to detail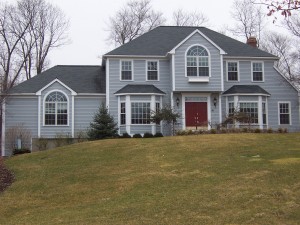 Residential and commercial painting projects require more groundwork than simply buying and applying paint. Through our many years of experience, we've developed a comprehensive approach to planning, management, and execution that keeps projects running smoothly, so we can complete the work on time and within budget—without relying on shortcuts.
Here's what you can expect when you contract with Eco House Painting:
Accurate estimates
During our initial consultation, we'll discuss your project and identify your needs, as well as your ultimate vision of the finished product. We'll bring our knowledge and expertise from past projects to determine what needs to be done and the time and materials required.
The estimate includes:
Selection of the best materials for the application, and manufacturer consultations to ensure material compatibility
Consultations with equipment rental companies for special needs, including environmental limitations, time requirements, and limited access concerns like location, weather conditions, and temperatures
Scheduling concerns such as company shutdowns, night work, and holidays
Identification of city requirements and environmental issues
Scope of work and budgetary requirements
Once the estimate is complete, we'll present it to you in writing and discuss any questions or concerns you may have. Your written estimate will include:
The exact scope of the work, with pricing details
Any exclusions or special requirements of the project
If our quoted price is not within your expectations, we'll work with you to make adjustments and meet your budget.
Mobilization and management
Our first step in kicking off the project is mobilizing personnel and equipment. We'll coordinate the delivery of materials and equipment to the site, adhering to the agreed-upon schedule to accommodate the needs of your business operations.
During project execution, we provide on-site management and quality control that includes:
A skilled, amply sized workforce that meets technical requirements
Inspections and site visits to ensure quality assurance and adherence to manufacturer warranties
Identification and timely adjustment of potential quality, timeline, and safety issues
Daily safety checks and weekly on-site safety meetings
Constant communication to address any concerns and ensure satisfaction
Wrapping up
Upon project completion, we'll schedule a final consultation to verify that we've exceeded your expectations. We strive to develop a long-term relationship with each of our clients, so your satisfaction is extremely important to us—even after the job is complete. If you have any concerns during or after your project, we will address them immediately. Our goal is to provide you with a superior residential and commercial painting experience that you won't hesitate to repeat.
Count on the Residential and Commercial Specialists
Whether your residential or commercial painting project is simple or complex, you can rely on Eco House Painting to get it done right the first time. Give us a call or contact us to get an expert consultation on your project.